Item
Pandemic Skeptics
Disclaimer
(Dublin Core)
DISCLAIMER: This item may have been submitted in response to a school assignment prompt. See Linked Data.
Description
(Dublin Core)
The attached screenshot is from the pandemic skeptic website https://evidencenotfear.com/. In this image, the site states a fact that adults are more likely to be killed in a car accident than from contracting the SARS-CoV-2 virus. This fact is true, unless you are an adult over the age of 49. Sites like this twist and spin facts to produce a narrative that sounds convincing enough to make you not have to look the information up. Oh and if you click the hyperlink "car accident" in that fact, it just takes you to more articles on their site that talk about automotive accidents on their site.

This site is trying to use "science" and "medical" facts to push the narrative that COVID fears are unreasonable and scare tactics. My reaction when I see any article full of hyperlinks is to check them out as well as to fact check the main ideas separately. Sites like this assume that people will not take the time to look information up and take it at face value.
Event Identifier
(Dublin Core)
Link
(Bibliographic Ontology)
Controlled Vocabulary
(Dublin Core)
Curator's Tags
(Omeka Classic)
Contributor's Tags (a true folksonomy)
(Friend of a Friend)
Linked Data
(Dublin Core)
pandemic skeptics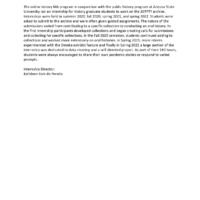 HST 580 Professional Experience/Archives course
Date Submitted
(Dublin Core)
Date Modified
(Dublin Core)
Item sets
This item was submitted on May 10, 2022 by [anonymous user] using the form "Share Your Story" on the site "A Journal of the Plague Year": https://covid-19archive.org/s/archive
Click here to view the collected data.
New Tags